DONATE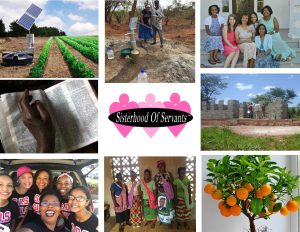 Become a Sisterhood Of Servants Impact Partner and help us reach more families in the United States
and Zambia, Africa. Here are are few of the projects in which we're involved:
1. Implementing a comprehensive transition housing initiative for homeless women and foster youth that have aged out of the foster care system
2. Hosting a mobile, medical clinic ministry for surrounding villages in Zambia
3. Installing a new greenhouse on our property in Zambia to protect our crops that are grown from seed
4. Expanding our mentoring outreach to implement SOS Girls International
5. Expanding our vocational training program and teaching more adults how to read
6. Expanding our educational program to include preschool classes for 4-6 year olds
Would you consider helping us accomplish our mission? Sisterhood Of Servants, Inc. is a 501c3
tax exempt, non-profit, charitable corporation registered in the state of Florida. Donations to Sisterhood
Of Servants are tax deductible to the full extent allowed by the Internal Revenue Service in accordance with
the U.S. Tax Code. All donations will be used solely for our charitable outreach programs at NorthPointe Acres, in Zambia, Africa and our S.O.S. Girls state-side ministry.
DONATE BY CHECK: Please make checks payable to Sisterhood Of Servants and mail to the following address: PO Box 441713, Jacksonville, FL 32222.
THANK YOU FOR YOUR GENEROUS SUPPORT