going back to zambia
please join me on this pictorial journey back to my beloved village after a long, three year absence
RETURN AND REUNION:
3 years. So much has changed in the village in that time span that I didn't even recognize the familiar turn into the drive that leads to Atiness' house. Two additional homes have been built that partially obstruct the view I once had from her porch. There are powerpoles everywhere! Most adults have a cell phone now, and the profits from last years' harvest provided many young men with the income to attain motorcycle ownership. The impatience of motorists can be heard as they blare the horns from their vehicles as a warning to pedestrians on foot. There is even a little 'traffic' on the road the separates our side from the dark side. The village is becoming 'the suburbs' of Chipata. There is even a local joke going around that soon they will have their own ShopRite grocery store. The hugs, smiles, and warm greetings from families were so wonderful. My arrival had been kept a surprise from the village at-large, and most were shocked to see me! The sweet children's faces were the same, but everyone was so much taller! Several of the children who had been born since 2019 ran from the sight of me, lol! My light skin complexion baffled them. Once comforted in the bosom of their mother, they all just stared at me – unblinking – as if trying to figure out just what species of creature I represented. It all felt so different – especially since Atiness was in town caring for her sick brother and wasn't waiting on the porch to greet us. Still, it was homecoming for me.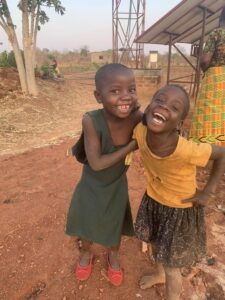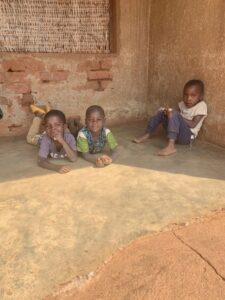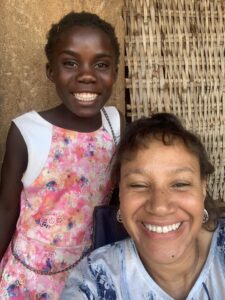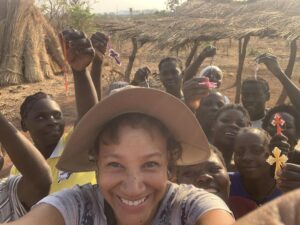 VILLAGE LIFE
---
THE FACES AND FACETS OF VILLAGE LIFE:
Because I'm a foreigner in Chipata Zambia, I get stopped on a regular basis by nationals that ask me about my trip, the nature of my work, how long I'm traveling in the country, etc. The conversation eventually comes around to someone asking me where I'm staying. When I tell them "the village" they look absolutely shocked! The Zambian nationals are shocked that a foreigner would choose to live among them in the village. Basic life is undeniably difficult, but I wouldn't want to be anywhere else. The Lord called me to minister to the people, so I naturally want to live where they live, eat what they eat, and experience what they experience. When I immerse myself in the culture, I pick up the language more quickly. Also, I can't tell you what unspeakable joy there is when a child races to you at full running speed and wraps you in the tightest hug, or hearing your name shouted from across the field by women drawing water at the pumps, or sitting on the porch as people pass greetings, or being honored with the title "Ambuya" (grandmother) by a sweet 2 year old that greets you every morning at 6am. The kids don't realize how blessed they are to grow up in this place. These people represent my life in Zambia. Here are their faces and a bit of their lives.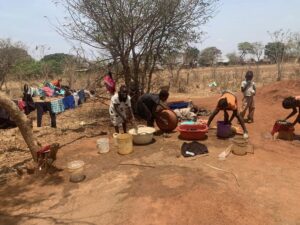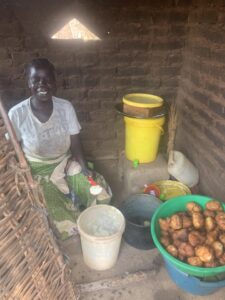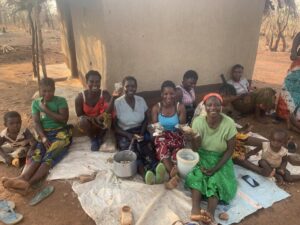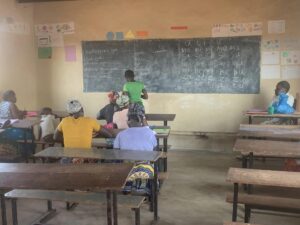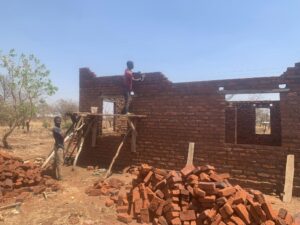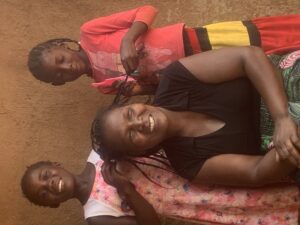 …in the garden
---
AGventures in the GARDEN – an explosion of trees
When I walked into the garden for the first time, I was absolutely stunned by all the growth. The trees have soared so tall. In 2018 our inventory had grown to 100 trees, and many of you sponsored one. Then in one night, a rogue herd of cows broke through our fence and ate 55 of them and most of the crops. That was such a discouraging time, but the co-op members persevered. We have built up our inventory and now have 121 trees in the orchard, which consists of lemon, orange, mango, avocado, papaya, guava, neem, green banana, and cashew. Calls are already beginning to come in from customers in town who are looking for lemons and oranges because they are so scarce right now. Doreen is already taking pre-orders. Isn't that AMAZING?! If we can keep the "human intruders" out of the garden, we should have our best harvest yet this coming Spring.
Our newest edition to the garden is the tilapia fish pond. I'm very excited about the potential of this venture. We have solved our water and solar panel placement problem, so the pond will soon be able to be filled. I just love the thought of radically improving the nutritional profile for village families through the addition of our citrus, fruit and nut varieties and healthy fish consumption.
PROBLEM PESTS
Gardening wouldn't be an adventure if you weren't constantly trying to figure out a way to stay ahead of the pests. I spent so many hours this trip pruning the orange and lemon trees and sharing techniques with our garden supervisor and security guard. The pruning process was long overdue. The foliage had gotten so thick that the grasshoppers were finding a thousand places to hide in each tree. We cleaned out the trees that were fruiting so that they could get more airflow, and we did a radical shape up on all the others. Our yields will probably double over the next year.
We've had a termite problem for years. In 2018 we treated the hill that was in the middle of the garden, but this year we actually dug out the queen in addition to applying the typical pesticide. I was SHOCKED at her size. She had a tiny little head and enormous larvae-like body. Now that the hill is finally destroyed, I'm praying we'll be termite free for the next 3-5 years.
Goats! What are they good for? Absolutely NOTHING! They just destroy and are probably our biggest 4 footed nuisance. We kept them out the garden, so they decided to attack our building. Because of their destruction, we're going to have to do a replaster job on the resource center after rainy season. Rotten things!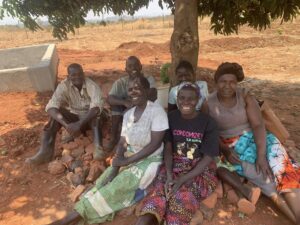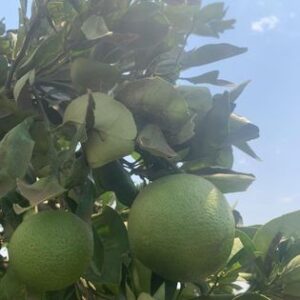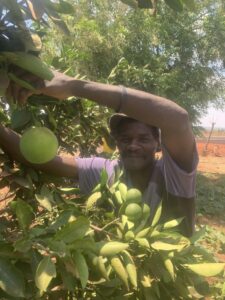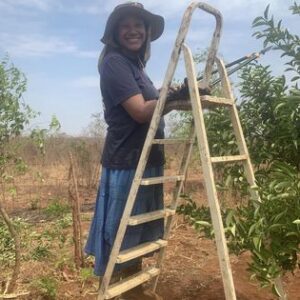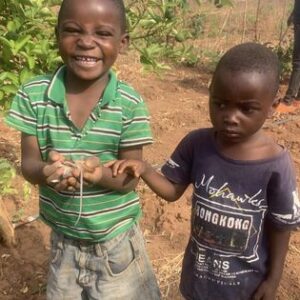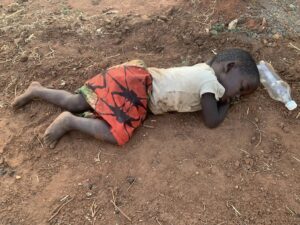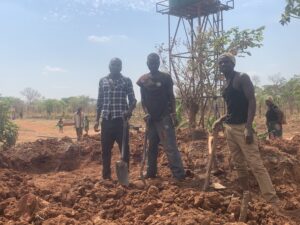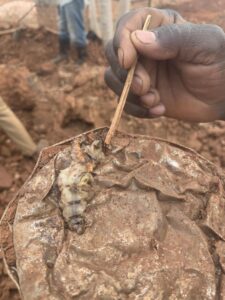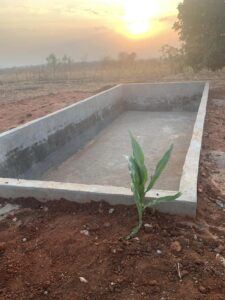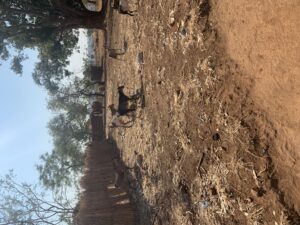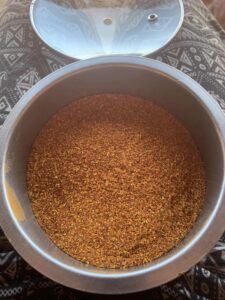 story time with amai phylicia
CHILDREN'S STORY HOUR:
In 2019 I started a tradition of telling spontaneous stories to the kids in the village. My stories are usually told in 5 parts. For 5 nights in a row I unveil a different part of the plot. In 2019 the story was called 'Samuel's Adventure on the High Seas.' Back then I had a small audience with a little boy named David, his sister Naomi, and their nephew, Ray. This year we invited all the kids for "story time with Amai Phylicia." It's an easy outreach opportunity, and I believe the Lord is blessing our efforts. We just completed Chapter 2 of this year's saga titled, "Monetta and Benjamin's Amazing Race." Last night we packed 25 kids on Atiness' porch and served them popcorn while I told the story and Doreen interpreted. The second night there were 38 children in attendance. The 3rd and 4th nights, we had 41. On the last night, there were a total of 61 kids along with several moms from the village across the road. At times it felt like we were trying to herd a bunch of cats, lol! The porch was so full that Doreen and I had to stand out in the yard while I told the story.
At the end of the story, the children and I sang a song I wrote in 2019 about how Jesus is our friend, our savior, and our redeemer. At that time, I shared the lyrics with every adult and child I came in contact with – even my taxi driver. You can imagine how my soul was moved when I heard the kids tonight singing along with me. So many of them remembered. They've been singing the words for 3 years in my absence, and I had no idea. Only God. Please pray for the seeds that were sown through a simple, made up, children's adventure story. Amazing things keep happening on Atiness' porch!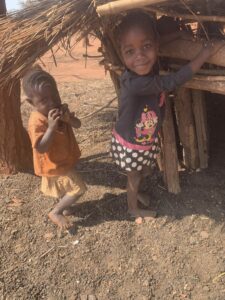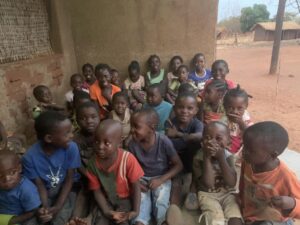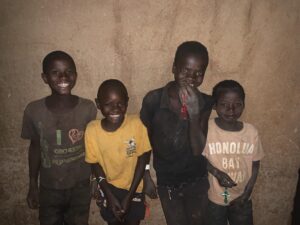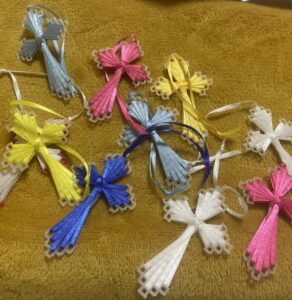 Meeting needs through sewing & discipleship
---
VILLAGE DISCIPLESHIP AND "JOYFUL GIRLS of ZAMBIA"
For many years I have prayed about the prospect of ministering to teenage girls in Zambia with an outreach program similar to our stateside SOS Girls ministry. Earlier this year I shared my thoughts with Robert and Doreen. They agreed with me that there was a real need for a program like this that would provide discipleship and accountability for girls in the village. The three of us began to pray that the Lord would send a leader for this new ministry – a woman who loves God, has a testimony of faithfulness, and loves the residents in Malongwe village. When Robert and Doreen told me they were building their house and had plans to relocate to the village by the end of the year, the Spirit of God spoke to my heart and confirmed that Doreen is the woman for whom we'd been praying.
When I asked her about assuming this new role in addition to everything else she was doing for Zambia Sisterhood Of Servants, she wholeheartedly agreed. She and I have been hard at work this past week developing a leader's guide complete with scope, purpose, and life skills lessons that will be taught to girls age 12-18. I am thrilled by the prospect of Doreen reaching these blossoming, young women through a comprehensive discipleship program called "Joyful Girls of Zambia – a ministry of Sisterhood Of Servants for girls age 2-18. By the way, the name "Joyful Girls" was coined by a 12 year old prospective member when Doreen gave her an in-depth description of the group's lessons and activities and asked for her opinion on what we should name the group. She was so happy that she was going to be a part of something really special. It only took her a couple of minutes to come up with the name "happy girls." We tweaked her suggestion just a bit, and we pray all the girls that Doreen influences will discover the joy that is found in living a life that is pleasing to the Lord.
The attached videos describe a special (albeit delicate) project we are undertaking. Phase I involved Doreen and me learning how to use a manual, treadle sewing machine. Phase II involved design and testing of the special product we made with the help of our women's sewing co-op. I hope you'll watch both videos with anticipation and then commit to pray for this new endeavor. Our design tests were a success, praise the Lord! Now, we mass produce with the help of the ladies in our co-op. The soap making instruction will be a real blessing for girls who miss school because their uniforms are dirty, and they don't have soap at home to wash them ( I witnessed that situation just last week ). The pads are washable and reusable and also come with a carrying bag so they can be hung on the line to dry. Girls in many third world, rural areas miss multiple days of school every month because they don't have the necessary hygiene materials. Lord willing, we'll be able to put an end to that for a group of girls in Malongwe village.