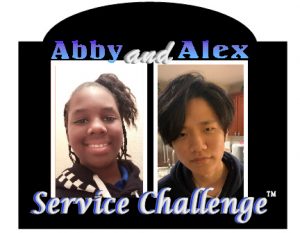 What is the Abby and Alex Service Challenge?
Abby Jean (12) and Alex Park (14) are a couple of teenagers that live out the principles of servant leadership and compassion in such a powerful way, that the Sisterhood Of Servants Board of Directors was inspired to create this outreach opportunity for other young people to get involved. Without ANY coercion from their parents, Abby and Alex purposed in their hearts to give back to S.O.S. by helping us fund our Partners In Compassion (P.I.C.) Initiative. The P.I.C. Initiative will provide economic empowerment, transition housing, educational opportunities and life skills training to foster youth that have aged out of the foster care system and homeless women and their kids. Last Fall, S.O.S. hosted a fundraising drive to purchase a 19 acre property in Bradford County, Florida on which the housing facility will be built. With Abby and Alex's help (and more than 100 other individual donors), we met our first goal to raise $25,000 by the end of 2020 to put as a down payment on the property. Abby raised $200, and Alex raised $1000. Here's what they did:
Abby's Testimony:
A woman in Phylicia Perry's bible study group presented Phylicia with a gift made by the woman's 12 year old daughter, Abby. It was a box of homemade cookies and an envelope. Inside the box were all these beautifully packaged cookies with a label on top that read, "Abby's Guilt Free Bites." On the outside of the envelope was printed the words, "For Miss Phylicia and SOS Girls." There was $200 cash inside the envelope! Speechless and overwhelmed, Phylicia asked Abby what motivated her to give so extravagantly to our ministry. This is her testimony: "After COVID hit, I had a lot of time on my hands to bake. I wanted to help during the pandemic, so I baked cookies to raise money. I donated to SOS Girls because I love the work that they do. I'm so glad I had this opportunity."
Service Challenge Pledge Goal
Powered By:
JustFundraising.com
Alex's Testimony:
Alex is a 14 year old high school freshman. Since the time Alex was very young, he has been giving his "time and treasure" to non-profit organizations to help those less fortunate. When Alex's mom told him about Sisterhood Of Servants' P.I.C. Initiative, he put together a plan and made a commitment to raise $1000 for the project! Alex sold a pre-paid coupon to family members. The coupon was worth from $10 to $100. It covered services like dishwashing, shoulder massage, helping grocery shopping, helping house cleaning and laundry, dog walking, etc. His grandparents, uncles, aunts, brothers and sister loved to purchase the coupons. Alex's mom says that now he has lots of things to do to cover the given 'already paid duties,' but he is really happy to do it!
What is AMAZING about Abby and Alex is their entrepreneurial instincts, their selflessness, their servant leadership, their initiative, and their love and compassion for those less fortunate. For the next 12 weeks, we would like to challenge everyone that visits our website (especially young people up to age 18), to follow in the footsteps of Abby and Alex and make a pledge to Sisterhood Of Servants to raise money and donate your proceeds to our organization. Think of something that you can do for others that brings you joy while providing them with a valuable service. Be creative! One hundred percent of the money that we receive from each participant will be used to develop the property we hope to purchase this summer. We encourage each participant to go ahead and complete the online pledge form shown below. The funds won't be due until April 30, so you have 12 weeks to put a plan in place and raise the money. Please click this link to learn more about the PIC Initiative: http://sisterhoodofservants.com/picproject/ Thanks for your support.